Forexite news
Release 35 (1/2014) of November 9, 2014
You are reading the Forexite news next issue. The purpose of the newsletter is to let our customers, partners and users of our services know our company news as well as the changes in our trading conditions and software products, and to reveal the useful opportunities of our services.
You will find in this bulletin:
TradeRoom 2014.11 and TradeRoom Mini 2014.11 versions released
QuoteRoom 2014.03 version released

TradeRoom and TradeRoom Mini news
Release of TradeRoom 2014.11 and TradeRoom Mini 2014.11 versions
The TradeRoom trading system is meant for Forex trading via the Internet. TradeRoom provides real-time deals, a flexible management of your trading account and a receipt of its state information.
The TradeRoom Mini trading system is designed for Forex trading through the mobile devices (cellular phones, smartphones, communicators, etc.).
In the new version of the trading platforms the following changes.
The FxWire Pro newsfeed in Russian and in English has been added. FxWire Pro is a fast growing company that provides traders with real-time breaking news and professional reviews of the Forex market. The news is brief and to the point.
Now you can execute trades as well as close positions right in the "Charts" tab. For this option, we have added 2 buttons: "Trade" and "Close position" to the tab. The "Close position" button is displayed if there is an open position on the instrument.


After you click on this button a standard form for Forex deals opens.


Thus you can execute trades right from the "Charts" tab.
Now you can trade with 22 new instruments (currency pairs). They are: USD/HKD, EUR/HKD, USD/MXN, EUR/MXN, USD/TRY, EUR/TRY, EUR/AUD, EUR/NZD, XAU/EUR, XAG/EUR, EUR/SGD, EUR/ZAR, GBP/CAD, GBP/AUD, GBP/NZD, AUD/CHF, AUD/CAD, AUD/NZD, NZD/CHF, NZD/CAD, CAD/CHF, CAD/JPY.
We have a new method for the funds transfers to/from your trading account: a "Skrill Account". The electronic payment system Skrill (formerly MoneyBookers) is one of the convenient ways to send and receive money, as well as make online purchases. Your Skrill account can be credited with a payment card, by a transfer from another member of the payment system.
For more information about the funds depositions and withdrawals please read the "Funds receipt and return methods" article on our website.
Now you can credit your account with VISA, MasterCard, etc. payment cards not only in Russian Robles (RUB) but also in U.S. dollars (USD) and euro (EUR).
The registration procedure of a demo (training) account is much simpler now. There are only 2 registration steps now, and the questionnaire at a demo account opening contains only the required fields. You can specify the rest of the data, if necessary, in your account settings after the registration.


After the account registration is complete, you can immediately log in to TradeRoom, without having to enter your username and password.


We have improved notifications which you receive via e-mail about the events on your account. Particularly:

If you receive a message through the TradeRoom internal messaging system, the event notification you receive by e-mail, will contain the subject of the message. If necessary, you can disable the subject identification in your settings.
We do not limit the amount of accounts one user may have. Therefore, when one receives an event notification by e-mail it may not be clear which exactly account the event refers to. Previously a real account used to be specified as the last three digits of its number, and it was not always clear what these figures meant. Now you can choose in your real account settings how your account which the events refers to will be represented in the e-mail notification: as your user name, as the full account number, or as its last three digits.


In addition to the above-described changes, there are more facilities to control your orders in the TradeRoom Mini trading system. Now you can control the linked OCO orders and If Done orders as well as trailing and the orders validity. So, TradeRoom Mini now provides access to all options of the order management available in TradeRoom system.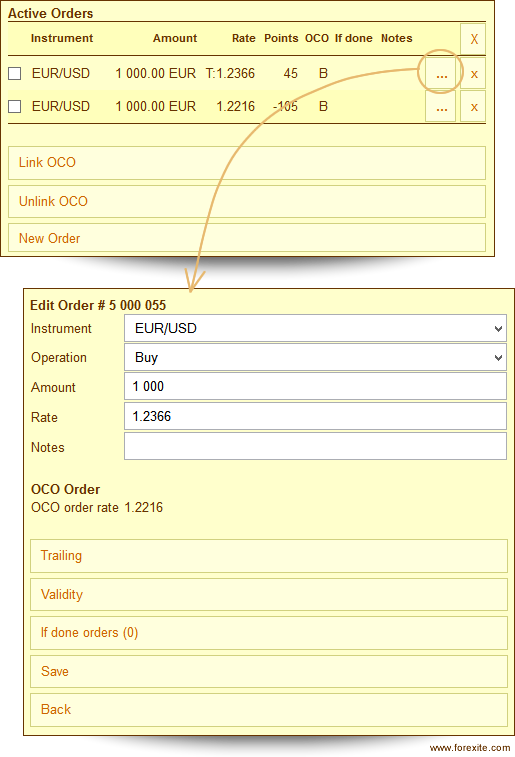 Log on to TradeRoom
Log on to TradeRoom Mini

QuoteRoom news
QuoteRoom 2014.03 version release
The QuoteRoom software is meant to collect, store and display the information (quotes and news) necessary for the Forex trading as well as to export the quotes into the programs of technical analysis. QuoteRoom allows you to use the Forexite TradeRoom system for the Forex trading, through a built-in browser.
Latest improvements and changes in QuoteRoom:
new currency pairs added;
TradeStation 9.1 update 29 is being supported.
Share