So now you have the virtual account registered. While there is no money on the virtual account, it is inactive. You cannot work with it. To activate the account, you should credit it with money. Let's see, how you can credit your account with a virtual deposit (we would remind you that you do not need a real money to do this).
Click on "Account Funding" in the "Payments" section of the TradeRoom main menu.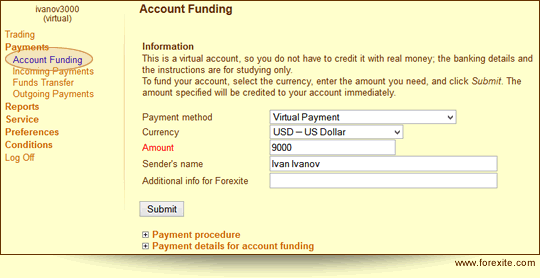 Enlarge [+]
Then select the currency and amount you want to credit your account with. It will be enough to credit your virtual account; no other extra information is required. The system will not take into consideration the data you enter in the other fields. As soon as you press "Submit", your account will be credited with the specified amount, which you will be notified of by the system.

Now, when you click on the "State of Account" tab on the "Trading" page, you'll see the account current assets increased by the incoming payment.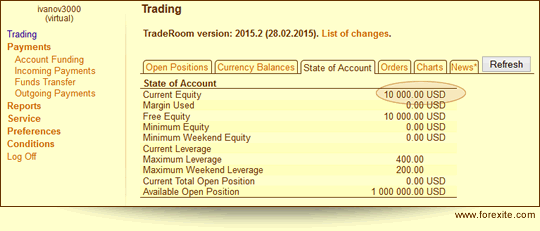 Enlarge [+]
Notes.
1) When you trade on a real account, the "Account Funding" page is used not to credit the account with funds, but to inform the Forexite Company on the payment you have made.
2) You should understand that you have to transfer the real money to you real account to trade on it. You can do this in one of following ways: by a credit card (Visa, MasterCard, etc.), with a RBK Money order, a Russian Post postal order, a WebMoney order, a WebMoney card redemption, a wire transfer, and others. So you need to know the banking details of the Forexite to transfer the money to your account. All the details you would need to make a payment by this or that method are stated at the bottom part of the "Account Funding" page.
3) The payment method you select determines the currencies your payment can be received in.
As soon as there is a virtual amount on your virtual account you can start studying the Forexite TradeRoom trading system.