So now, your demo account is opened. TradeRoom automatically credits the new demo accounts with a virtual deposit of 1000 USD. It is done so that you can begin to explore the trading all at once. If this amount is not enough, you can make a deposit to your account yourself (please remember that you do not need real money to trade in a demo account).
Let's see how you can credit your demo account with a virtual deposit.
Click on "Account Funding" in the "Payments" section of the TradeRoom main menu. Then select a currency and specify the sum you want to credit your account with.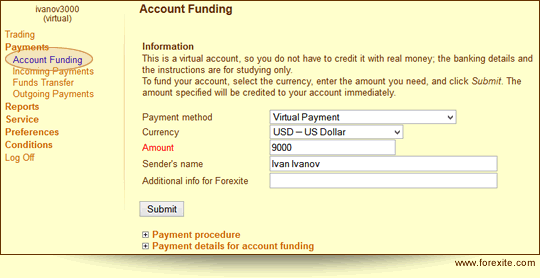 Enlarge [+]
That's enough to credit your demo account, no other extra information is required. The system will not take into consideration the data you enter in the other fields. As soon as you press "Submit", your demo account will be credited with the specified amount, which you will be notified of by the system.

Now, when you go to the "State of Account" tab on the "Trading" page, you'll see the account current assets increased by the incoming payment.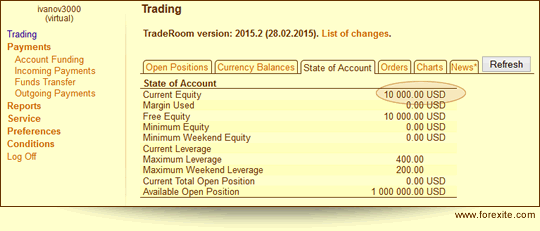 Enlarge [+]
Notes.
1) You should understand that you have to transfer the real money to your real account to trade on it. You can do this in one of following ways: by credit card (Visa, MasterCard, etc.), with a RBK Money order, a Russian Post postal order, a WebMoney order, the payment systems: Skrill, Paxum, a wire transfer, etc. So, you need to know the Forexite banking details to transfer the money to your account. All the details you would need to make a payment by this or that method are stated at the bottom part of the "Account Funding" page.
2) Most payment methods are integrated in TradeRoom. It means that the funds you have transferred will be credited to your trading account immediately upon their receipt by Forexite. For such payment methods as a WebMoney purse, bank transfers, etc. the "Account Funding" page is used just to inform Forexite of the payment.
3) The payment method you select determines the currencies your payment can be received in.
Now you can start studying the Forexite TradeRoom trading system.
Share