After the account registration is complete, you can log in to TradeRoom either by going to the Forexite TradeRoom login page. Or you can click on TradeRoom link right now.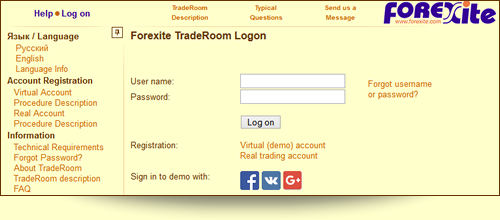 In case of the correct username and password you will be logged in to the system. You will be automatically forwarded to the "Trading" page, with the "Open Positions" tab being active.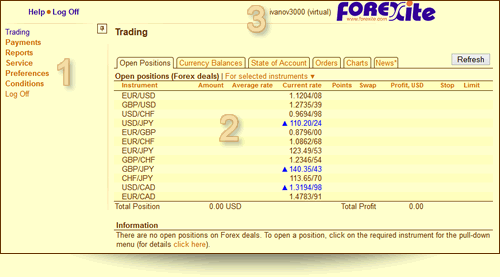 Enlarge [+]
The TradeRoom window is divided into three areas:
The main menu is used to operate the system; it contains controls to execute trades, convert finances, view reports, modify settings, etc.
The main menu controls are functionally grouped into the sections, which are shown in bold. If a section is wrapped, the operations it consists of are not displayed. To expand the section, click on its heading.
The work space contains the information and the controls necessary for execution of trades, placement of payments, receipt of reports, editing of settings, etc. The work space view and contents depend on the operation selected in the main menu.
The auxiliary menu at the top of the window allows calling out the TradeRoom main menu, the on-line help, and a prompt ending up the system session. It can also show notifications (if you have any unread messages) as well as the name, or the number, of the account here.
Main menu automatic hiding
By default, TradeRoom is always displayed with the main menu, which is pinned with the

button.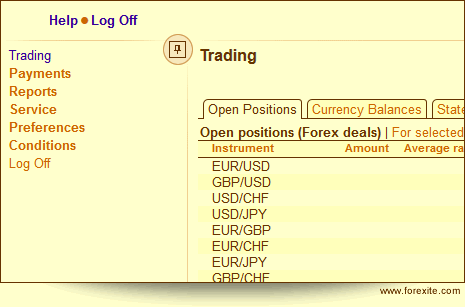 If you do not have enough space on your screen, you can hide the menu. To allow the system to automatically hide the menu just click on

. Then it will be unpinned from the main screen of the system and will be immediately hidden. Your interface will look like shown below.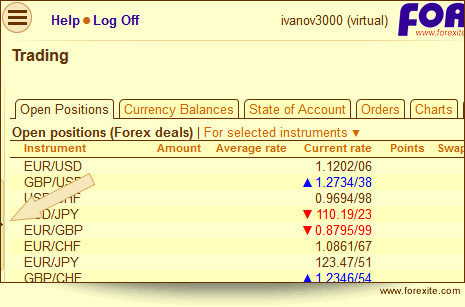 To call out the menu, click on

or just click your mouse at the left edge of the window.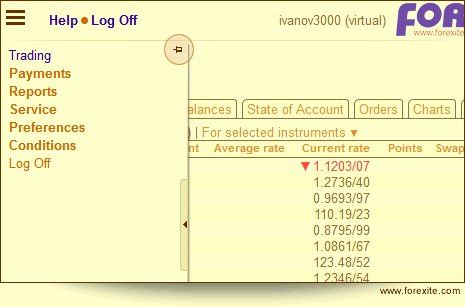 To pin the menu on the screen again, use the

button.
TradeRoom home page
In case you want another page to open automatically after you log in to TradeRoom, you can change the startup page in the system settings.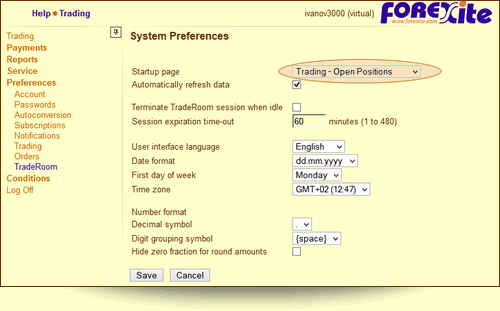 Enlarge [+]
TradeRoom interface language
The system interface can be displayed either in Russian or in English. At the TradeRoom logon the language is selected automatically, since the system uses the preferred language specified in your browser. So, if the Russian language is marked first in your preference list, TradeRoom will be displayed in Russian; in case of English set first it will be in English. If none of them is listed in the preferences, the system will use the English language by default.
Share