The "Funds Transfer" page is meant for sending instructions to the Forexite company on the fund transfers. It looks as follows.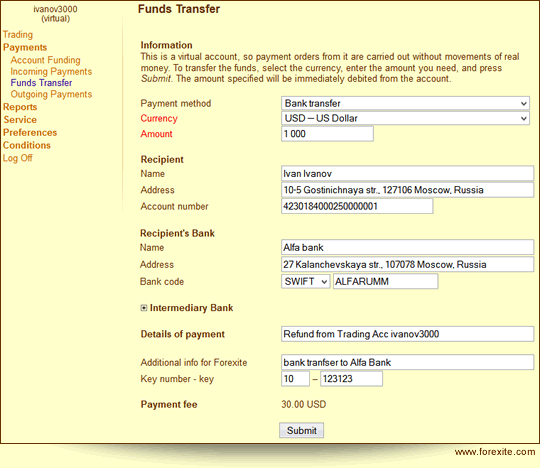 Enlarge [+]
There are many ways for the fund transfers in the TradeRoom system. E.g.: a RBK Money purse; a WebMoney purse; a Skrill account; a Paxum account; Payment cards; Bank transfers; Internal transfers (used for TradeRoom account-to-account transfers), etc.
Note.
Virtual (demo) accounts have only a "Virtual payment" option meant just for debiting.
Depending on the payment method you select, the "Funds Transfer" page displays different fields necessary for the correct filling out of the instructions on the fund transfer. E.g., the picture above shows the currency, amount, and the recipient's bank account details. The Details of payment field is filled in automatically, and it is recommended not to edit it. The "Key number" and "Key" fields at the bottom of the page are meant for the security while the transfer from the real trading account. You should enter your secret code to confirm your disposal of the real account. A set of the secret codes is generated by the system automatically and is sent to every user of a real trading account via the internal messaging. You do not need any secret codes when trading at your virtual (demo) account.
After you fill in all account details press "Submit", and your order will be sent for processing.

A virtual account order is executed immediately, whereas an order on the real account is processed by the Forexite staff first. The account is debited right after the order sending, but the recipient will receive the money only after the order is processed and executed. The handling period depends on the application time and the payment method. The orders received beyond the business hours are processed at the beginning of the next working day.
You can trace the orders handling in the "Outgoing Payments" of the "Payments" section in the main menu.


Enlarge [+]
The filter allows you to select the necessary period, currency, and the order status. Click "OK" to get a list of the transfer orders for the required period of time. The list includes the most important information. For the detailed information on the payment, click on the required payment order. For example: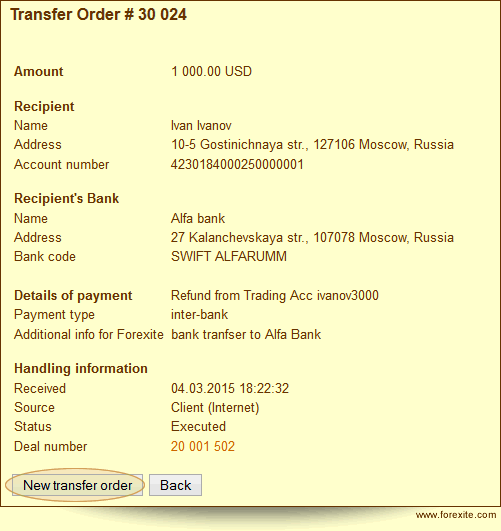 We'd like to mention one more useful feature of TradeRoom here. When you look through the full order information and would like to use it as a template, click on the "New transfer order" button. The system will re-direct you to the "Funds Transfer" page, the fields of which will be filled in with the data from the order browsed. You just need to correct it when necessary.
Share