Note that the TradeRoom system currency charts are more functional: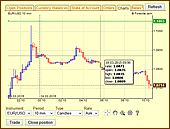 Enlarge [+]
Allow choosing the charts type: candles, bars (OHLC, HLC, HL), or lines.
Allow choosing Bid or Ask. It can be useful, e.g., when checking the order execution. If you have a Buy order which should be executed at the Ask rate, then it is more convenient to see the Ask rate on the chart.
Allow for more periods: 1, 5, 10, 15, 30, 60, 120, 240 and 480 minutes, a day, a week, and a month.
Are automatically updated in real time.
Allow obtaining a detailed information about the specific point: the bar time, the rate at the point of the mouse placement, the Open, High, Low, and Close rates.
If there is an open position for the selected currency pair, then the charts displays the position average rate as a line. The beginning of the line corresponds to the position opening.
We recommend that you use the charts of the TradeRoom trading platform. Just open a demo or a real trading account to use them.